Home page
Photography home page
2D photo gallery
---
Stereo Photography
Remember ViewMaster? Stereoscopes? Tru-Vue? To most people who have only seen professionally produced stereo photographs, the result can seem like magic. But the techniques for taking 3-D pictures aren't difficult, and they're made easier - and far cheaper - by modern digital cameras and computer-based editing tools. Viewers are relatively cheap and available from companies like Reel3D.
Watch for my upcoming book on 3-D photographic technique and composition, which will be advertised here. In the meantime, grab your stereoscope (for the side-by-side views) or red/blue glasses (for the anaglyphs), and take a look at the pictures below.
---
"Custom mirrors", Charles Street, Boston (July 2010)
Here's a picture that can only be fully understood with stereo viewing. It also shows how simple equipment can give great results. Walking down Charles Street not long after sunrise, I found this shop window. It's a beautiful picture even in 2D, but the added depth of stereo brings out the great depth of the subject - the window mullions, the stuff on the display shelf, and most importantly the way the shadow plays against two layers of posters hanging from wires inside the window. This image was made from two pictures taken with an HTC Dream Android cell phone. Phones are many people's default cameras, since they're always with us, and the small size of stereo images offsets the low resolution and generally low lens quality to allow decent stereo images to be made. This is the full image - the original pictures were not cropped. Although it's generally safest to pull back and allow some border so edge distortion can be cropped, I put personal safety ahead of image safety and opted not to stand in the middle of Charles Street, facing away from oncoming traffic, to get the best possible image. The lack of detail at the edge of the frame helps here too.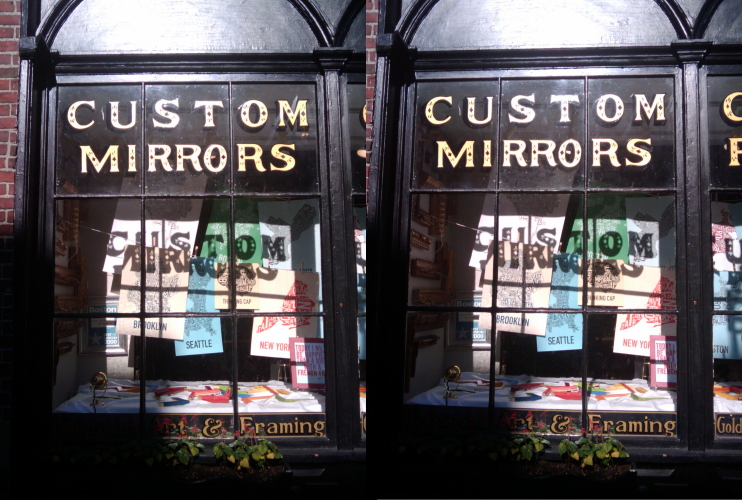 ---
Harvard exhibit of glass sea creatures (June 2008)
This was an interesting challenge. The glass flowers at the Harvard Museum of Natural History are a must-see if you visit Boston, and the subject of an earlier stereo study. They have always fascinated me, but the pictures I've taken don't do them justice. (Yes, the museum allows cameras, but no flash or tripods). They're beautiful, three-dimensional objects, and, like sculpture, 3-D photography is the best way to portray them, but in lower light than the glass flowers, through glass display cases, it was hard to get good results.

Here are a few of the sea creatures, in case you can't make it to Harvard to see the whole exhibit.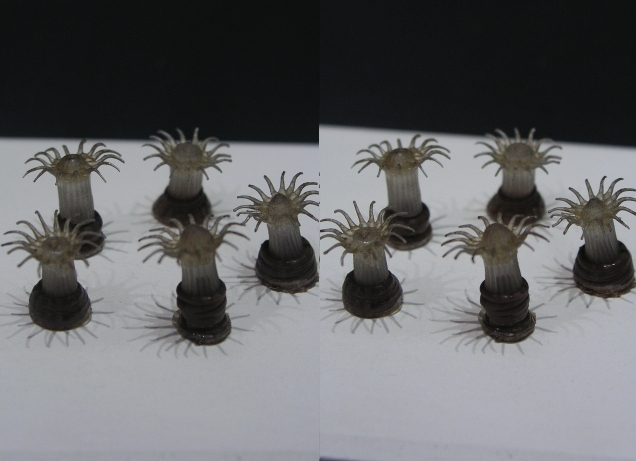 Side-by-side view
Side-by-side view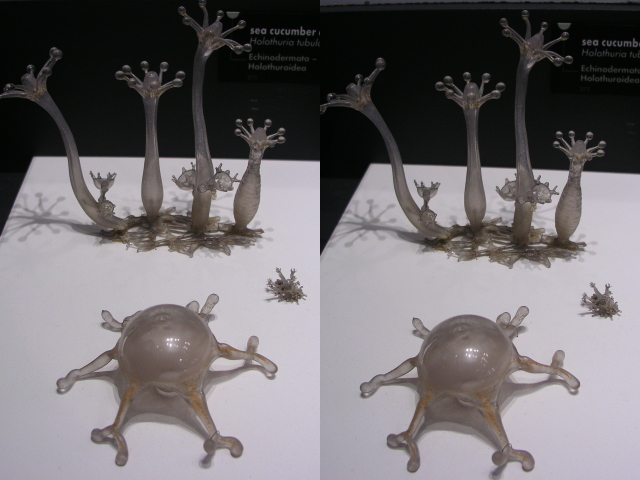 Side-by-side view

Side-by-side view



Side-by-side view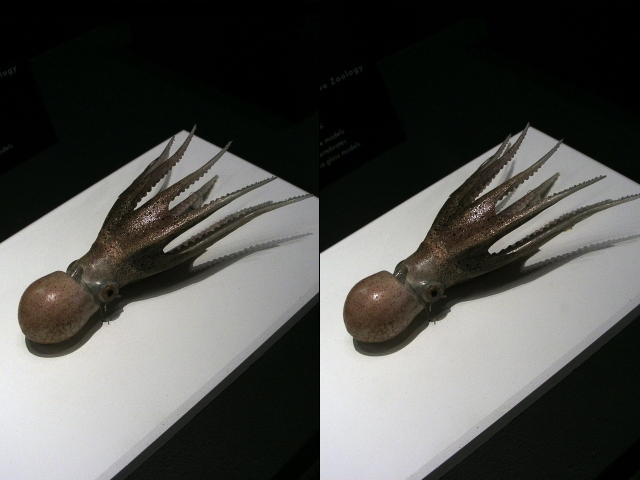 Side-by-side view




Side-by-side view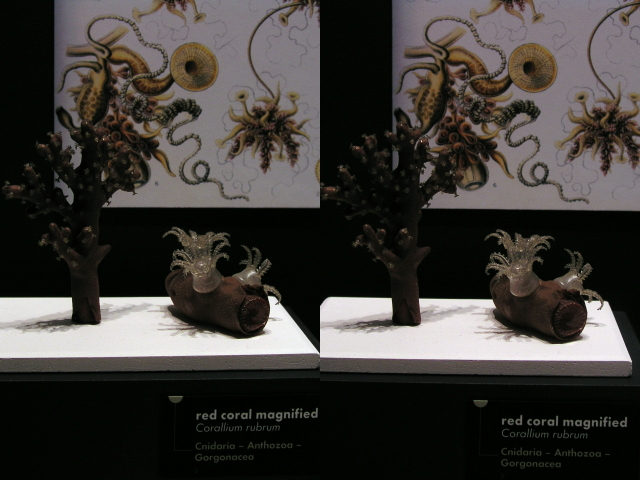 Side-by-side view

Bonus: The Blaschkas, who made the models, also made prosthetic eyes. Here is a box of them: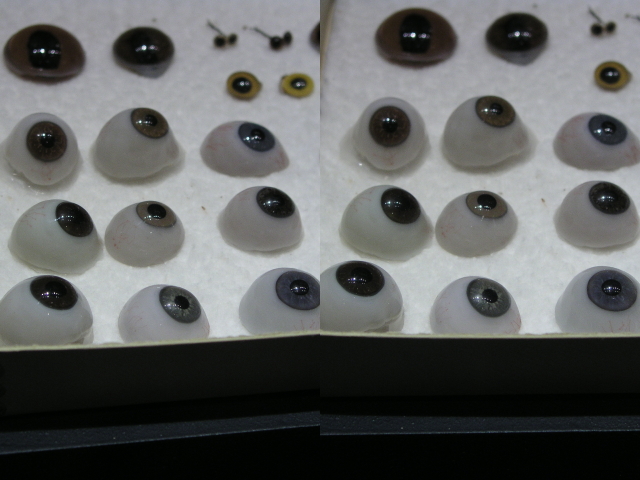 Side-by-side view
---
Welch and Dickey trail, Campton, NH (May 2008)
Here are some stereo shots from a trip up Mount Welch and Dickey, two beautiful mountains at the southern edge of the Whites. It was a Friday, the weather was gorgeous, and virtually nobody else was on the mountains. So I had lots of opportunity to set up stereo shots. Here they are.


The first few shots were taken at the first outlook - the best view for the least work anywhere in the White Mountains. This is about 45 minutes to an hour from the trailhead, and it's breathaking in fall foliage season. There's a teaser picture further down this page that was taken in October at the same outlook.

Side-by-side view
This is the trail that leads out of the woods to the edge of the outlook. The trail is marked to protect the fragile alpine vegetation growing back on parts of the rock ledge.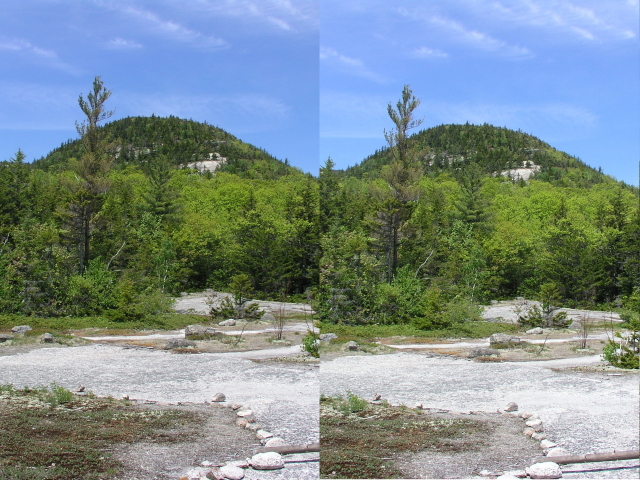 Side-by-side view
Here's the walk to come - the summit of Welch, from the outlook.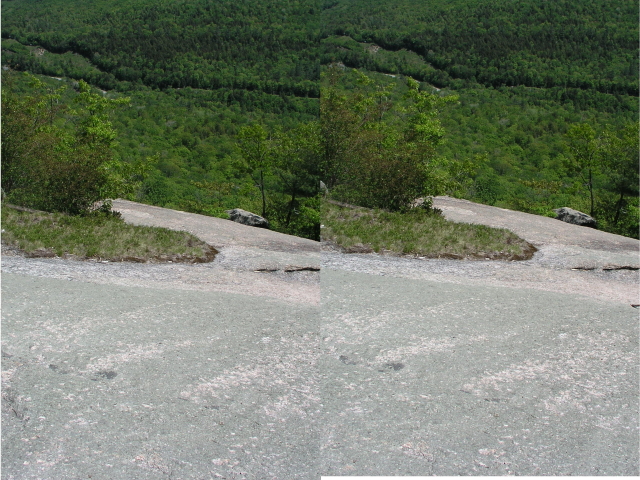 Side-by-side view
On the way off the outlook to the summit, there are some great views - almost straight down.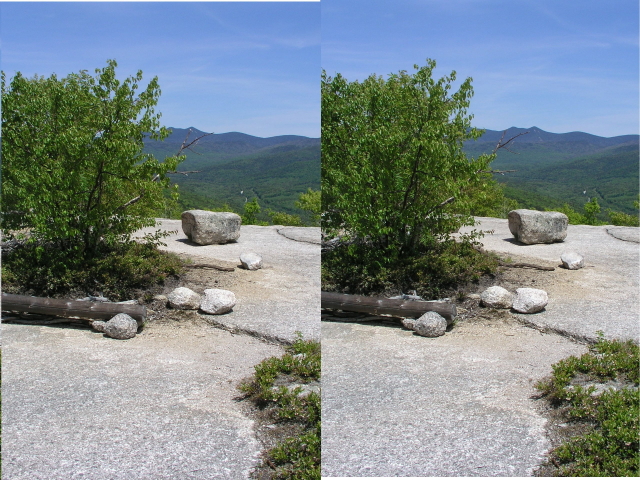 Side-by-side view
The long view, from the outlook.



Next comes a steep walk up rock ledge from the outlook to the summit of Welch.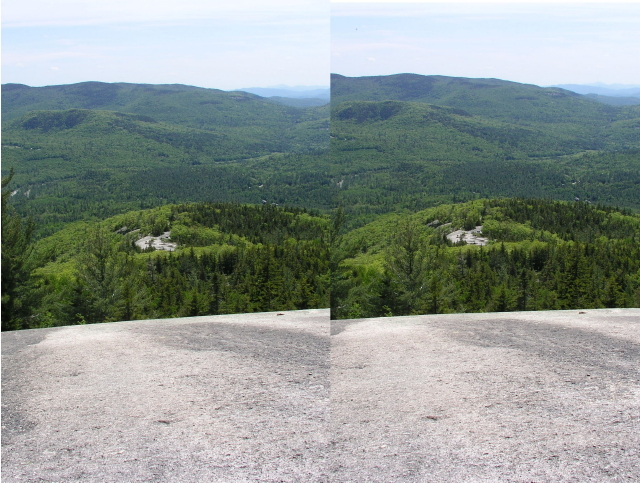 Side-by-side view
Here's the last look at the outlook from near the summit. From here the top levels out, more or less.


On the top of Welch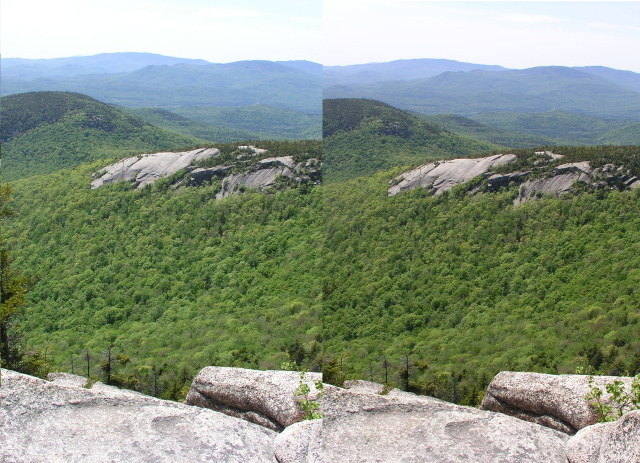 Side-by-side view
From the summit of Welch, here's a look ahead - this ledge is part of the descent from Dickey back to the trailhead, and it shows how much of this hike offers dramatic views.


On to Dickey...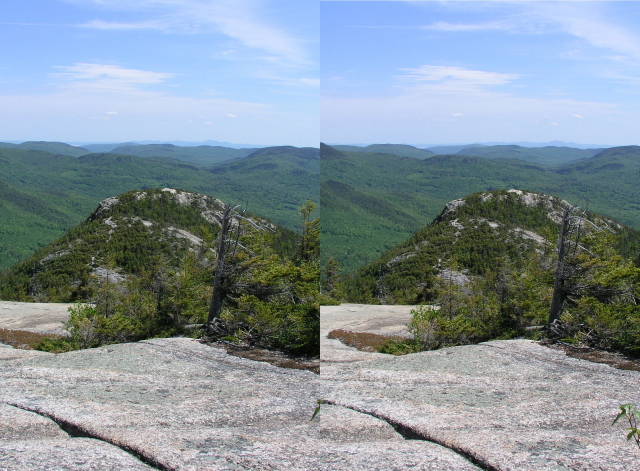 Side-by-side view
Here's a view back to the Welch summit from near the top of Dickey, which is quite a bit higher.





---
More pictures from Bretton Woods (March 2005)
Sometimes it takes me a while to go through these pictures. I got a bunch of great shots at Bretton Woods on this trip. These are the best. Snow is a good subject for 3D, since it brings out the texture in what would otherwise look like a featureless expanse of white. Darker objects really show up against the snow, thanks to the combination of contrast and distance. The porch shot was just something I caught on the way out - the Mount Washington Hotel was closed for the winter, so I got a chance to climb around and get some good perspective pictures.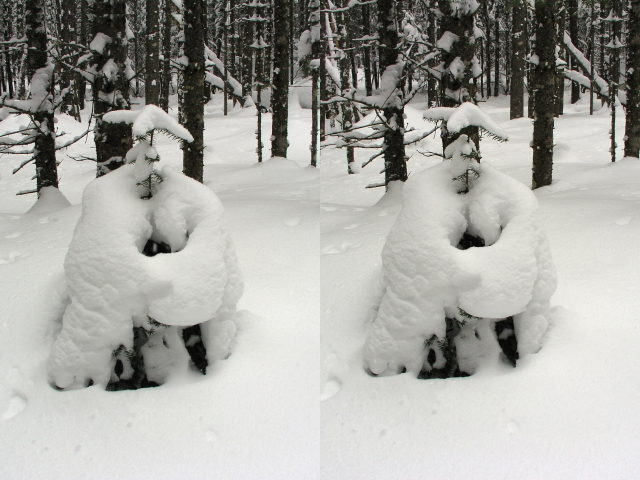 Side-by-side view



I noticed this tree when I was skiing by. With its arms folded in front, it looked like a cross between a shaman and R2D2. It's for moments like this that I'm glad I carry a camera - I came back a few days later and found the same tree and it looked like, well, a tree.




Side-by-side view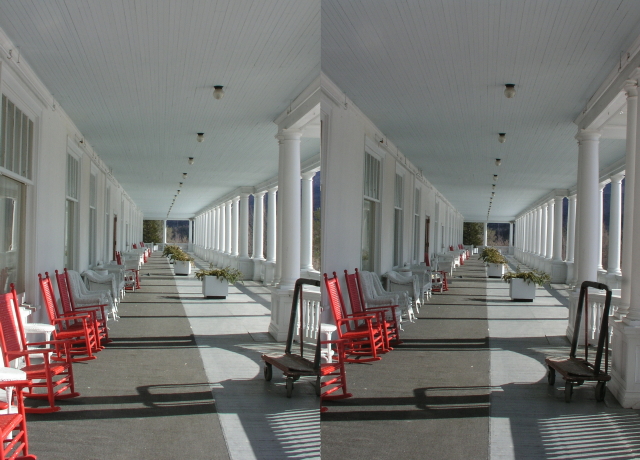 Side-by-side view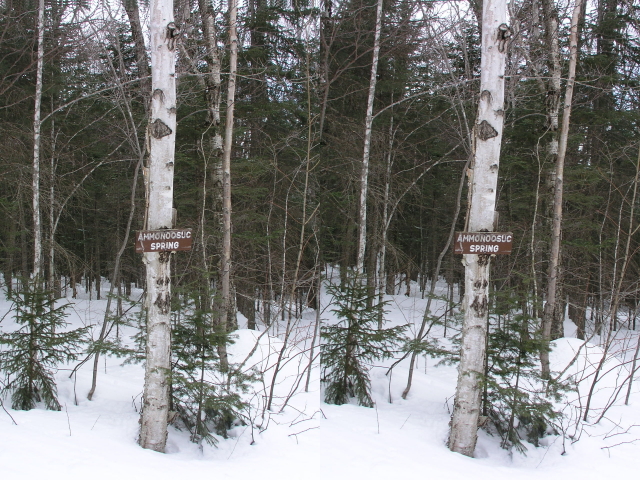 Side-by-side view


---
Stairwell at Mt. Greylock, Massachusetts (August 2005)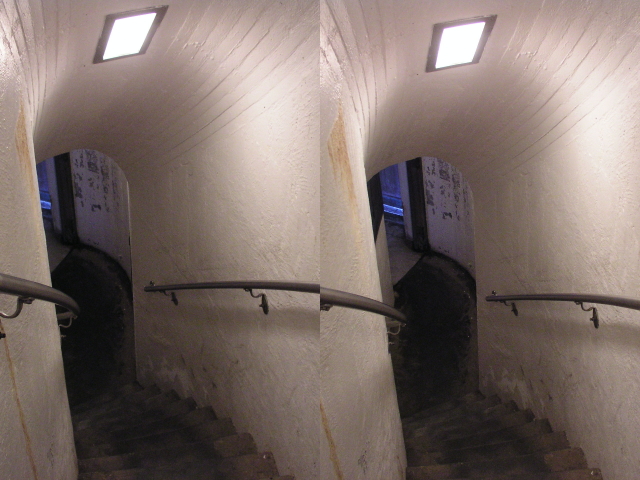 Side-by-side view

Sometimes - often - stereo is the only way to get an image to look like reality. This shot of the stairwell in the Massachusetts War Memorial Tower just didn't have "it" in 2D, but in 3D, you might feel like you're about to fall down the stairs.
---
America's Cup yachts outside Boston's Museum of Fine Arts (November 2005)
Side-by-side view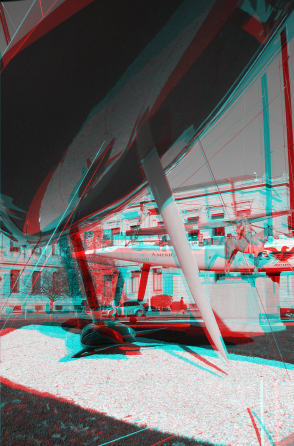 Anaglyph view
I was at the MFA for a second visit to the Ralph Lauren car collection (see the Jag picture below). I went outside with a friend and wanted to show him how 3-D photography worked. I didn't have a camera with me on this trip but I took this with his conventional digital camera. At home, I whipped up this stereo pair for him in a couple of minutes... he's out taking stereo pics of his own now.
I love the juxtaposition of different angles at different distances, the way the guy wires for the boat in the foreground pop out of the picture, and just the absurdity of two twelve meter yachts sharing the lawn with a statue of a guy on horseback.
---
---
Jaguar XK120 nose, MFA Ralph Lauren car exhibit (hoods up night), Boston, MA (October 2005)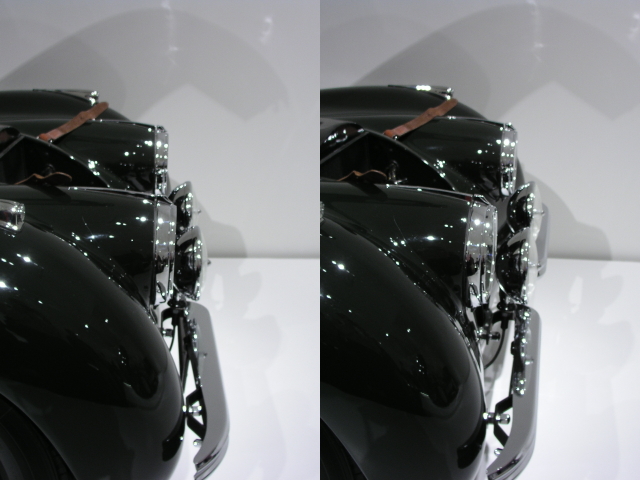 Side-by-side view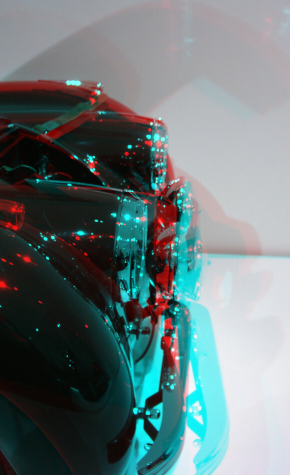 Anaglyph view
The MFA in Boston has sponsored a few unusual exhibits recently. This one featured the car collection of Ralph Lauren. While the cars were exhibited as sculpture, one night a month they opened the hoods and let the car geeks check out the equipment. This picture of the nose of a Jaguar XK120 was taken with a bit too much separation, but the 3-D image shows the curves of the car much better than any conventional picture could. Plus, I like the shadow of the car's hood on the back wall. This one is much better in the side-by-side than in the anaglyph. Photographed with the Olympus 5050, roughly 50mm focal length, automatic exposure.
---
---
Glass Flower exhibit, Harvard Museum, Cambridge, MA (May 2005)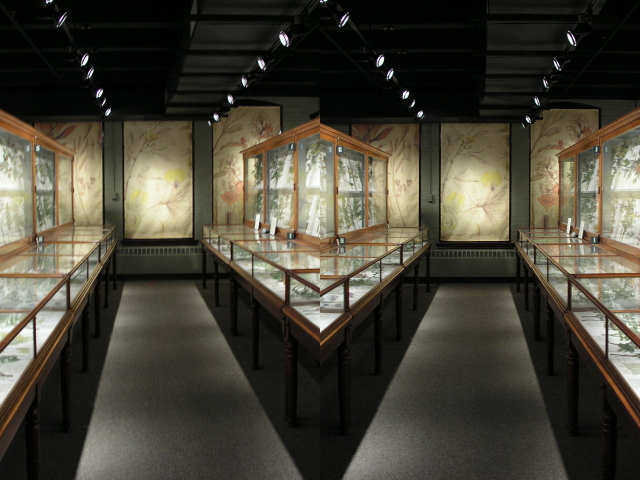 Side-by-side view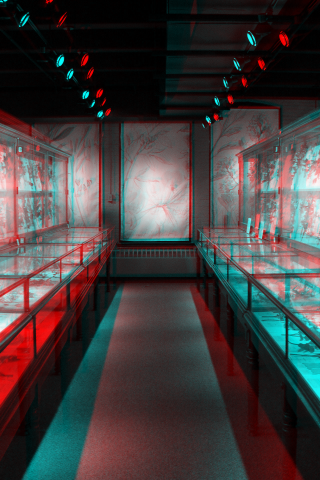 Anaglyph view
Harvard's collection of glass flowers is an amazing tribute to the dedication of two glassblowers who were commissioned by Harvard to create botanical models that Harvard students could use to study plants. Get as close as you want, these models look like the real thing. But the subject of this picture is not the flowers, but the neat geometric patterns of the aisles of display cases. Photographed with the Olympus 5050.
---
---
Stone wall at Edith Wharton estate, western Massachusetts, (August 2005)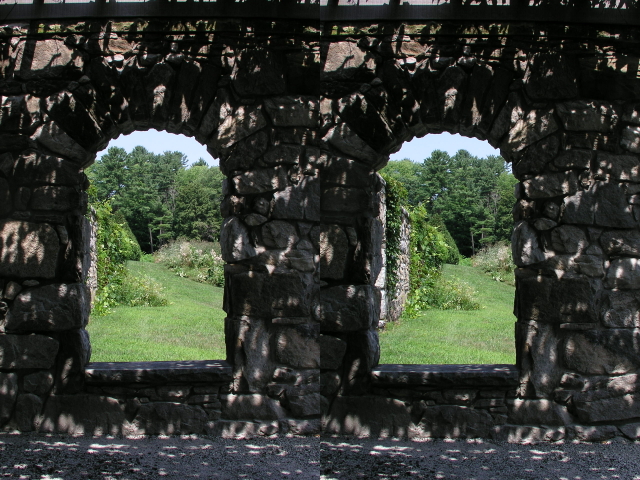 Side-by-side view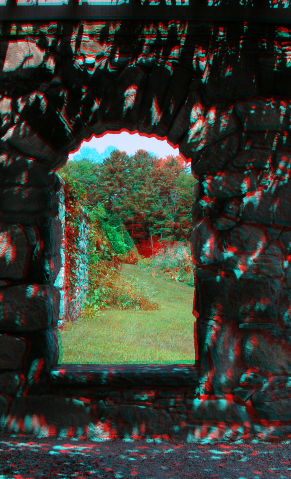 Anaglyph view
Everything was on a grand scale at this marvelous old estate, including this classic window opening in a stone wall. Photographed with the Olympus 3000, roughly 50mm focal length, automatic exposure.
---
---
---
Cross-country ski trail, Bretton Woods, NH (March 2005)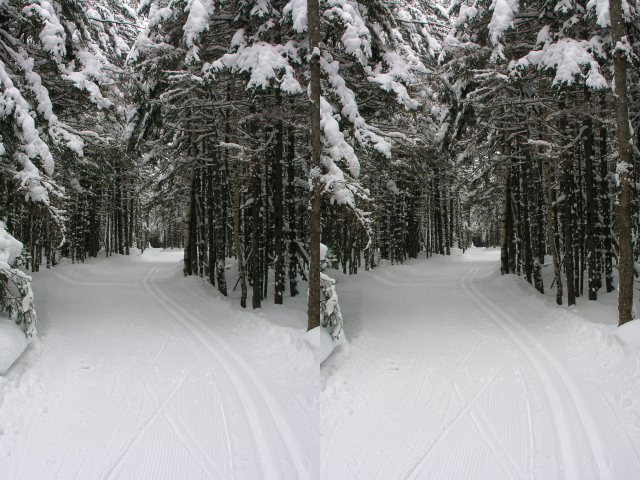 Side-by-side view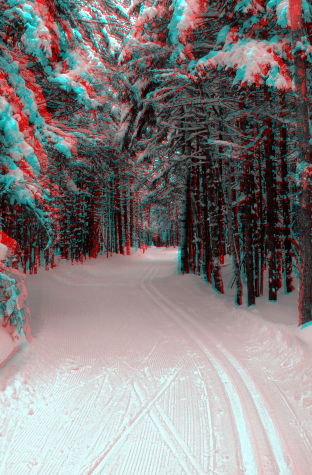 Anaglyph view
Winter 2004-5 was an awful one for cross-country skiing - at least until mid-February, when a series of winter storms left enough snow to last almost into April. After a few trips I got the ski bug out and decided to do some photography. I photographed this trail, on the way down the back side of the Bretton ski mountain, a day after a big snowstorm. The snow is pristine and the trail leads away and down the mountain. On a good day like this one, the whole area looks pretty much like this. Photographed with the Olympus 5050.
---
Cabin 2, Camp Pok-O-Moonshine (August 2004)
Side-by-side view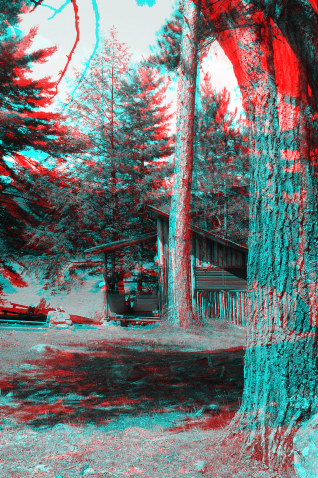 Anaglyph view
At camp for a reunion, I got a chance to take many stereo shots of very familiar scenes. I was a counselor in this cabin, which was built in 1940 and is still in use. The amazing thing in this picture is the foreground detail, which is especially visible in the side-by-side shots. Photographed with the Olympus 5050.
---
---
Lincoln Memorial statue, Washington, DC (April 2004)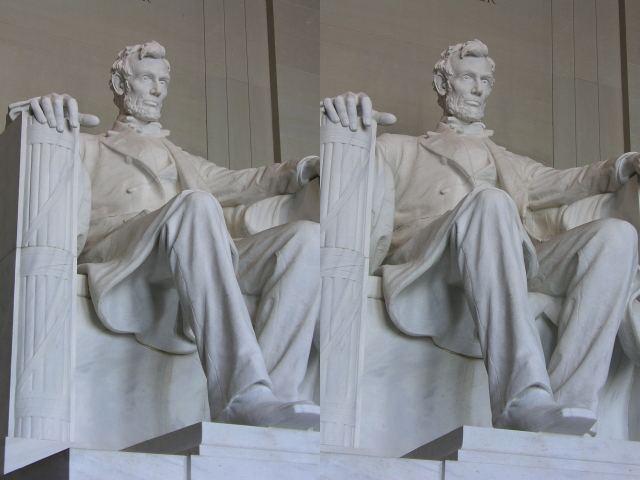 Side-by-side view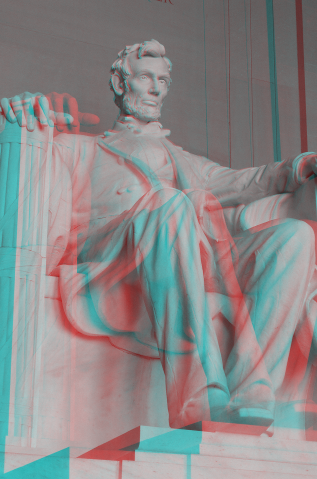 Anaglyph view
Washington, DC is a great place to find monumental things to photograph in 3-D. This image of the Daniel Chester French statue of Lincoln was the best stereo shot I got on this trip. Photographed with the Olympus Camedia 5050, roughly 50mm focal length, automatic exposure.
---
---
Desert Snowman, Red Rock Canyon, Nevada (November 2000)

Side-by-side view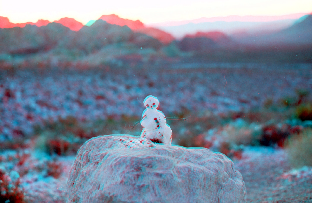 Color Anaglyph view
It was snowing when I flew into Las Vegas airport. Whiteout conditions continued on and off during my drive to the hotel. I headed over to Red Rock Canyon as soon as I unpacked, and found a steady stream of tourists, plus news trucks and camera crews, there to witness the inch or so of actual snow on the desert floor. As I was leaving, I ran into a group of people who take a monthly hike through the desert on the night of the full moon. My unlined jacket wasn't going to cut it in the 25 degree weather, but the trip leader happened to have an extra down jacket, and off I went. Halfway through the walk, the clouds broke, and the light caused by the full moon on the snow-covered mountains and the desert that surrounded us was simply indescribable. Unfortunately, my camera equipment wasn't up to capturing it, although I got some interesting pictures the following morning.
The next morning, I drove back to Red Rock to photograph the sunrise from the highest point on the loop road. While I was waiting for that event, I noticed a few snowballs on the ground next to the parking lot pavement. I realized they were the remains of a snowman that someone had built the night before. The poor guy was doomed to a short life as temperatures would quickly rise above 50 degrees once the sun was up. I decided to give him one more lease on life, reassembled him on top of a boulder, and took a few pictures including this 3-D shot. The out-of-focus background is unorthodox for a 3-D photo, but in this case I think it works pretty well.
A snowman in the desert fifteen miles from Las Vegas is one of the more ephemeral things around, but this one may live forever on the Internet. Photographed with the Olympus 3000, roughly 50mm focal length, automatic exposure.
---
---
Bleriot monoplane, National Air and Space Museum, Washington, DC (April 2004)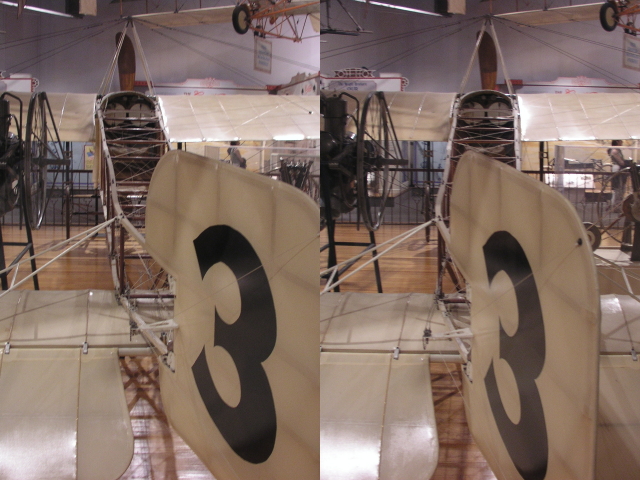 Side-by-side view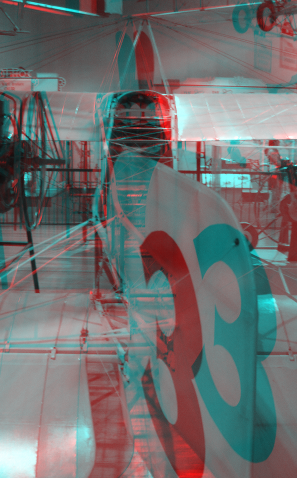 Anaglyph view
With their long wings and fuselages, planes are great 3-D subjects. This shot, although a bit overseparated, shows just how scary it must have been for the people who piloted these early craft. Photographed with the 5050.
---
---
Elf House, Middlesex Fells Reservation, near Boston (April 2003)
Side-by-side view
Anaglyph view
You never know what you're going to find. Walking around Middlesex Fells, I ran across a set of these tiny houses, built on mounds in the middle of the woods - either by elves or by a human with a sense of humor and way too much time on his hands. This was the best of them, complete with stairs, a thatched roof and a working door. I've gone back since and there's no trace left of the houses. Maybe the elves have moved on. Photographed with the Olympus 3000, roughly 50mm focal length, automatic exposure.
---
---
Bridge across trail, Middlesex Fells (June 1999)

Side-by-side view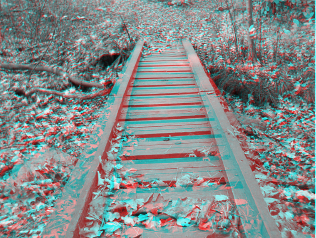 Anaglyph view
Long straight lines are always fun to photograph in 3-D. This bridge crosses a small gully. Photographed with a pair of $5 disposable cameras taped together - no expense was spared in getting a quality shot.
---
---
Fall Foliage, White Mountains (October 1998)
Side-by-side view
Color Anaglyph view
One of my early experiments with stereo photography, and a sentimental favorite. Shot on the side of Welch Mountain, the stereo treatment brings out a great deal of detail, like the dead tree branch in the foreground, that disappear on a conventional photo. Besides, I'm a sucker for fall colors.
---
---
You figure it out.
Side-by-side view
Anaglyph view
I'll leave this one to you to figure out. Email me if you think you know what it is. Photographed with a Nimslo.
---
Top of page | Home Page